We are now an Indeed Apply official partner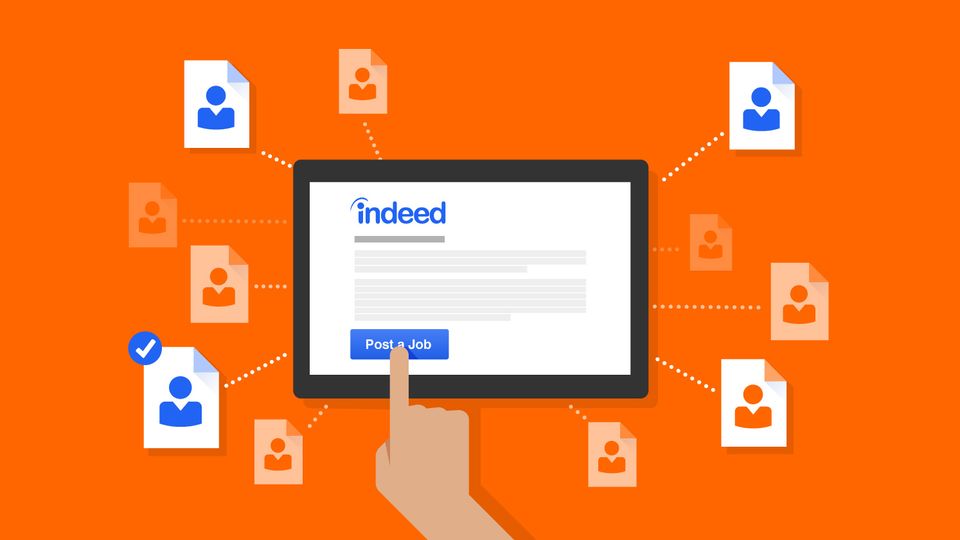 We are so excited to announce that HR Partner is now among a very select group of HR platforms that have been added to the Indeed Apply partner list.  We have had standard Indeed integration before to cross post HR Partner job listings on their site, but Indeed Apply takes us to the next level.
This means that now, users of Indeed, the largest job aggregation site in the world, can apply for open positions within your HR Partner company all without having to leave the Indeed platform or mobile app.  This includes answering the screening questions on your customer HR Partner job forms, and the automatic uploading of their resume document straight to HR Partner!
This should increase the reach of your jobs to a much wider audience, and make it easier for applicants to seamlessly apply for positions.
BUT! In order to maximize your effectiveness on Indeed, there are certain guidelines that you as a customer, and we as an HR platform have to comply with.  Please continue reading to see how to get best results from Indeed (and more importantly, how not to get your job ads rejected from their platform).
How to set up Indeed integration for your company
There is no cost to set up the Indeed Apply integration.  All you need to do is to turn it on within your HR Partner company and it will immediately begin working in the background.
Step 1 - Turn it ON
By default, the Indeed integration is turned OFF in HR Partner for all users.  You will have to manually activate it by going to Recruitment -> Configure -> Integrations, and turning on the slider next to 'Indeed'.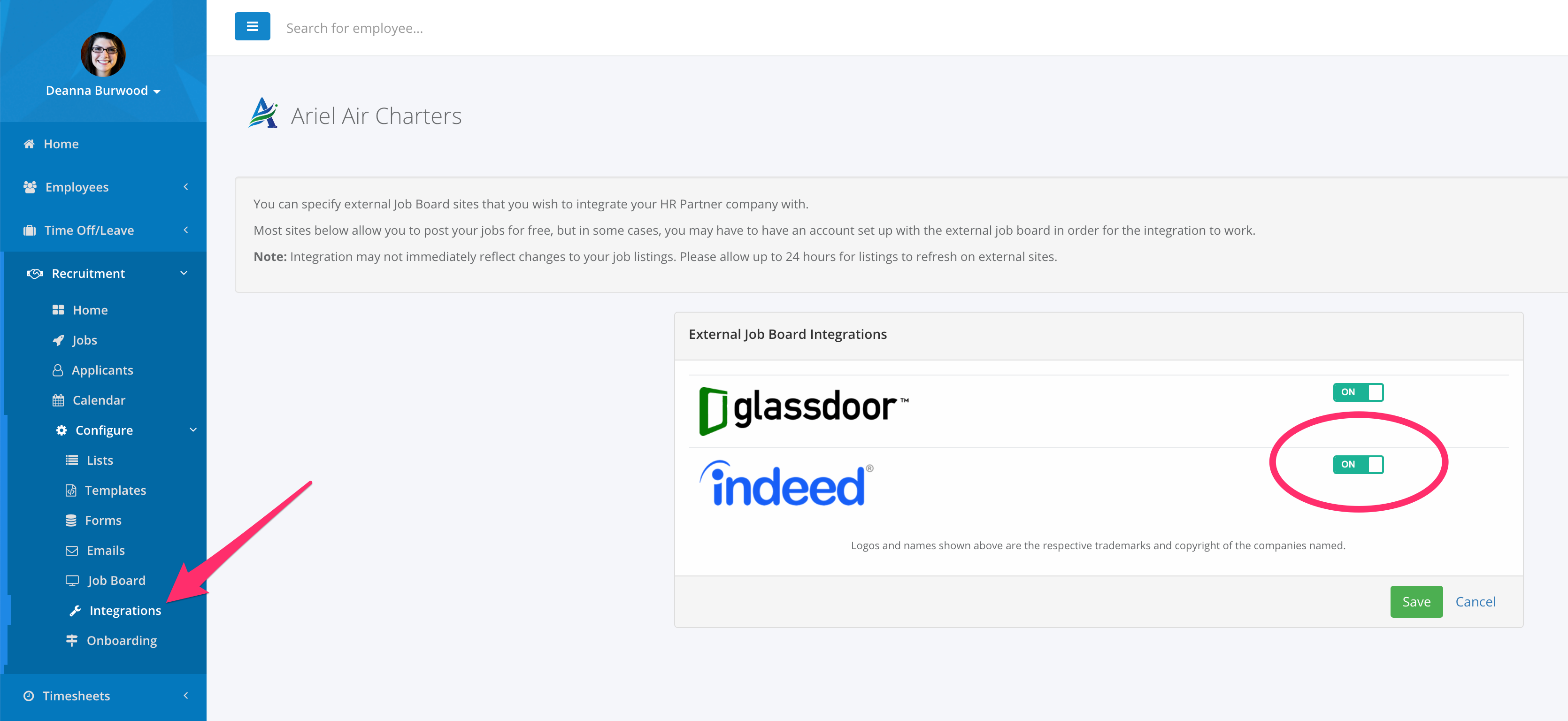 Step 2 - Get your job listing info right
In order to post to Indeed, you HAVE to include information such as City, State and Post Code.  This is so that their search engine can properly categorize this position when their users do a locality search.
You also have to set a definitive start and stop date so that Indeed knows when to display your job on their platform.  You cannot have 'open ended' time spans for your job listings, however a workaround is to just put a close date that is quite a distance in the future, and then when you close the position, you can simply change the date back, or just deactivate the job listing and it won't appear on the Indeed platform any longer.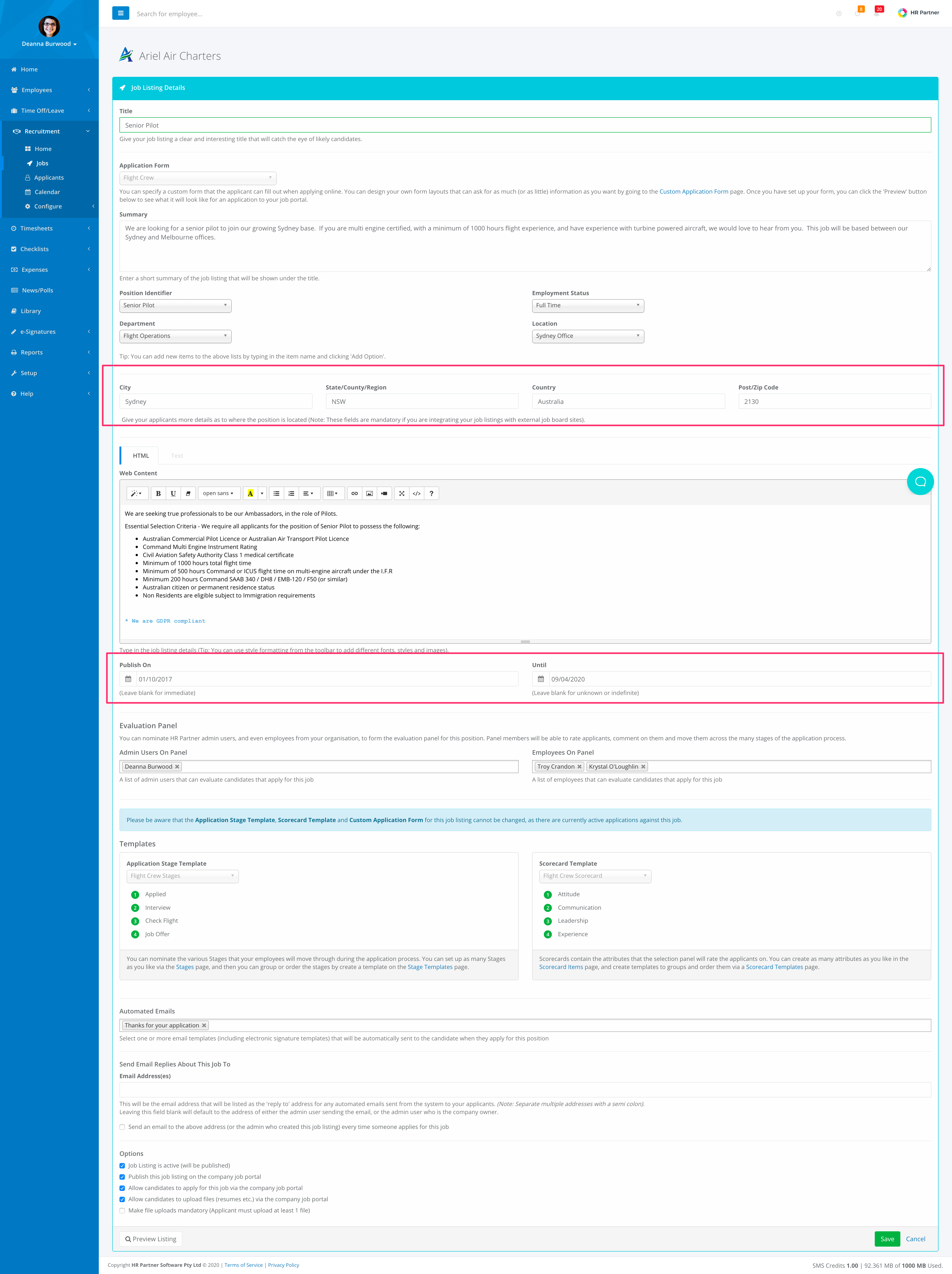 Step 3 - Process candidates
You will see now that candidates who come to you via the Indeed platform will have the little blue Indeed logo next to their name, so you can easily identify who came to you from there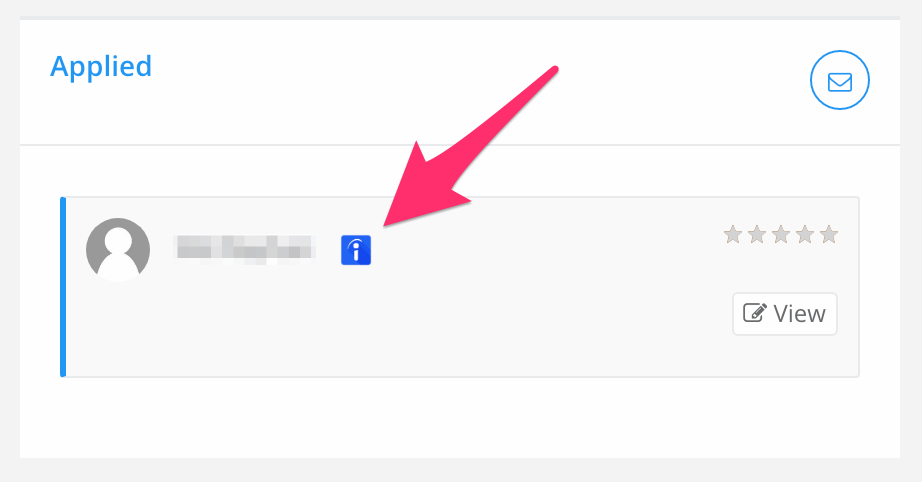 Next Steps
In the near future, we will be adding the option for sponsored job listings on Indeed in order to give them higher visibility.  This level WILL require you to have a paid account with Indeed.com so that the jobs will be associated with your company and the sponsored costs will be deducted from your Indeed billing account.
We will also be adding 'disposition analytics', so that as candidates move through your recruitment pipeline, anonymous data about their movement will be sent to Indeed which will be collated into their analytics database.  This way, you will be presented with a report from Indeed so you can see how your recruitment process compares against other companies in your industry sector.  You can see how you compare to your compatriots as far as hiring time and cost, time to move through the various hiring stages etc.
Important Notes
Here are some important tips to ensure that your job listings work the best way possible on Indeed:
Don't include the location name in the job listing title.  Have the location information in the appropriate fields we provide.  So for example, having the job title "Senior Sales Manager - Melbourne, Australia" as your job title will not work or may be rejected by Indeed.  You should just have "Senior Sales Manager" as the title, and put Melbourne and Australia in the city and country fields accordingly.
⚠️ Don't copy the job description from a website or Microsoft Word document and paste it into the job description editor field in HR Partner.  The reason for this is that the above systems have a whole lot of 'hidden' HTML commands that get copied and pasted across as well, and these are invisible in the editor, but add a LOT of overhead when the description gets sent to Indeed, and can even cause issues with the rendering of your job description on their platform.

If you have to cut and paste from Word or another website, we strongly suggest that you paste it into a program like Notepad or another plain text editor first, then copy and paste again into HR Partner.  Then you can add your formatting etc. manually.
Be patient - the cross posting to Indeed happens in the background, and can sometimes take 24 to 48 hours to happen (though it often happens sooner).
Don't duplicate.  If you have already manually entered the job listing on Indeed, they consider it bad practice to also have your HR Partner job listing posted as part of the integration as that will create duplicate listings.  Choose just one platform as your 'source of truth' and use that.  Also be aware if your company is using another ATS system to post job listings to Indeed.  There can be only one! 😉
Do read their guidelines for best practices for posting jobs as that will increase the chances of your job listing being successful on their platform.
With hundreds of job listings from hundreds of customers on our HR platform now, we are excited to see how this new Indeed Apply integration works for you.  Please do not hesitate to contact us if you have any feedback or questions about this integration.