Improvements to Performance Reviews
We have made some improvements to our Performance Management module in order to make it easier for you to use it on a day to day basis.
Last year, we launched our Performance Reviews and Goal Tracking modules to help you manage your team better, and we have got some great feedback - thank you to everyone who has embraced these new modules and are using it on a day to day basis.
And thanks to your feedback, we have realised there are some areas that could be improved to speed up your workflow.
One thing we did previously on the employee ESS portal, was to try and show the employee's own reviews, plus the reviews that they were involved in (as a manager or a colleague/peer) on the same screen.  We also went ahead and hid any completed reviews on these screens to try and save screen clutter.
But it wasn't perfect.  Having both lots of reviews on one screen was confusing, and managers especially still wanted access to completed reviews so that they could refer to them when working on a current review for a particular employee.
So what we did is to now split the employee's own reviews onto a different screen from the reviews that they are involved in for other employees.  You will notice that the 'Performance' menu on the ESS portal now has two sub menus: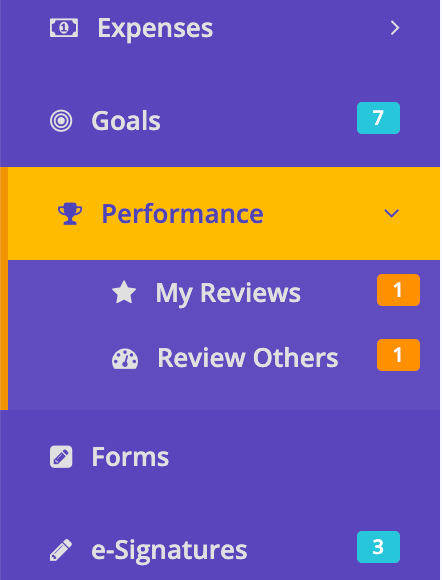 Each of these menus will also show the current outstanding reviews in each area so you can quickly see if there is anything that you need to be aware of before clicking through.
When you click through, you are initially presented with only the outstanding reviews in that area, however you can click the button on the top right hand side to switch to showing ALL reviews, including completed ones as well: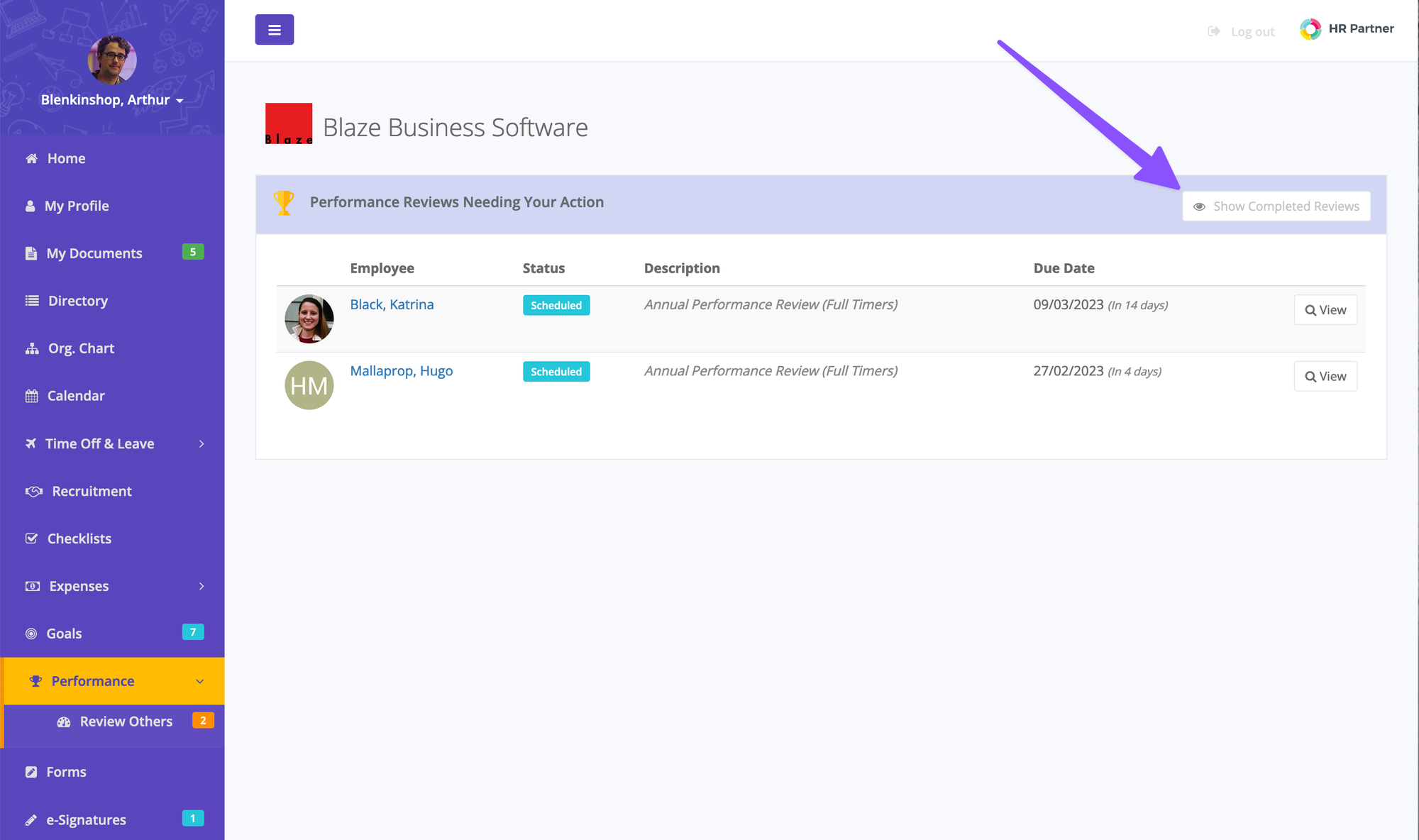 Additionally, company admins have noted that it is a tedious process on the admin portal to check who has done what on the list of assigned reviews.  You had to click 'View' on each review and then click on the 'Forms' tab to see who had completed their forms, who was only part way through, and who hadn't even started filling in their review form yet.
So now, we have added in a brief status on the Assigned screen, which tells how how many of the forms have been completed, and we have included a little toggle arrow to let you expand or contract the review(s) to instantly see who has completed their assigned forms without having to open the whole review: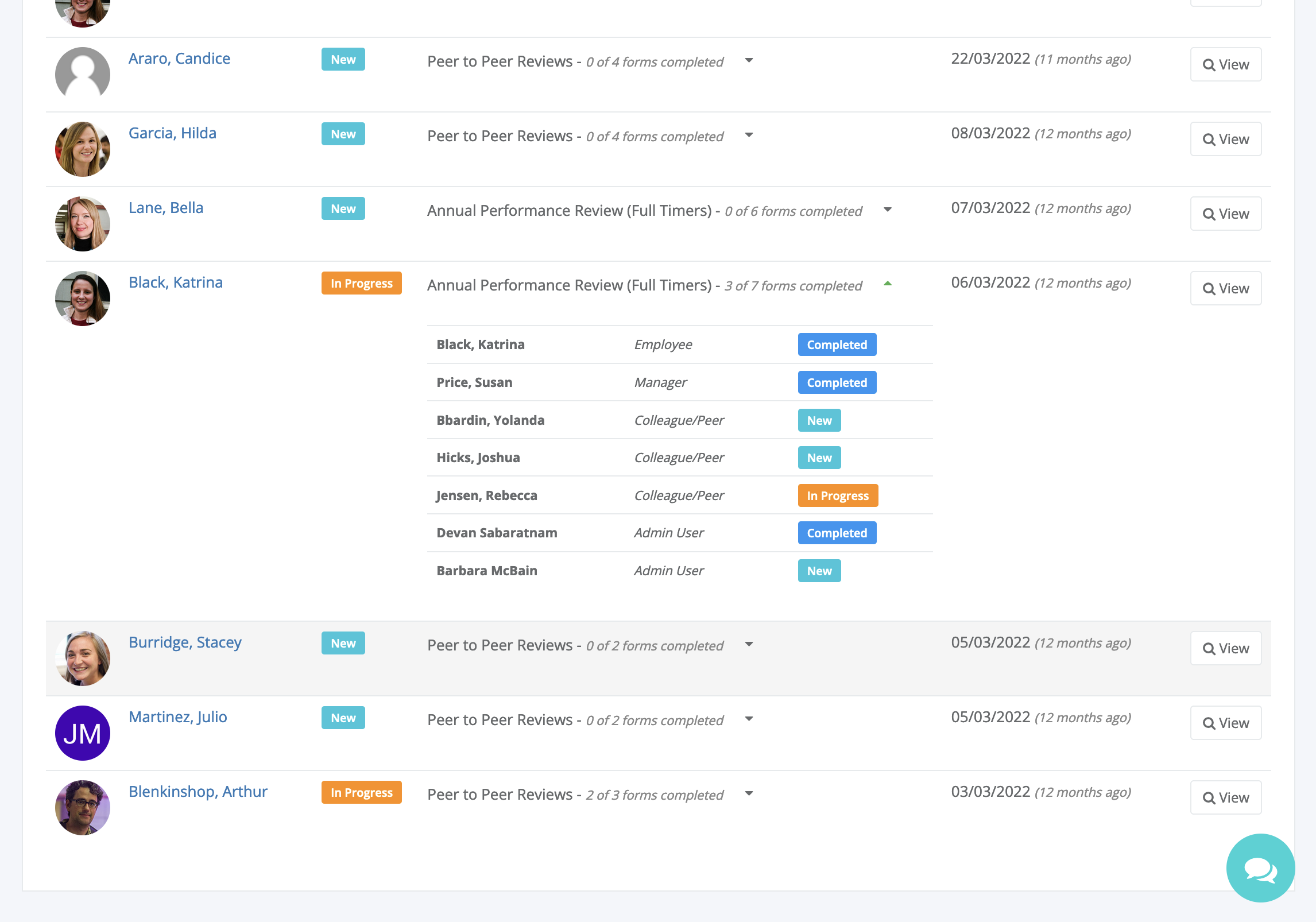 We hope this make Performance Management a lot more useful for you.
Stay tuned though, because we have some more changes in the pipeline.  As always, we welcome your feedback on ways that we can improve HR Partner.  Simply contact our friendly Customer Success team via support@hrpartner.io