Changes to the Setup menu
We've made a small change to our menu structure within our interface to try and make it easier for you to set up company parameters.
HR Partner has grown significantly since we first released it online back in 2015.  One of the problems with always building on and adding new features, is that sometimes the simple structure that you started with just doesn't work any more.
One area that has become jumbled and confusing over time is our Setup menu where you can configure all the core parameters of HR Partner.
This menu used to say 'Company', but what we have done now is to rename it to 'Setup' to better indicate what you can do here.  And underneath that, we have grouped the different sets of parameters a little better, so you can quickly find your way around and get to where you need to without hunting and pecking.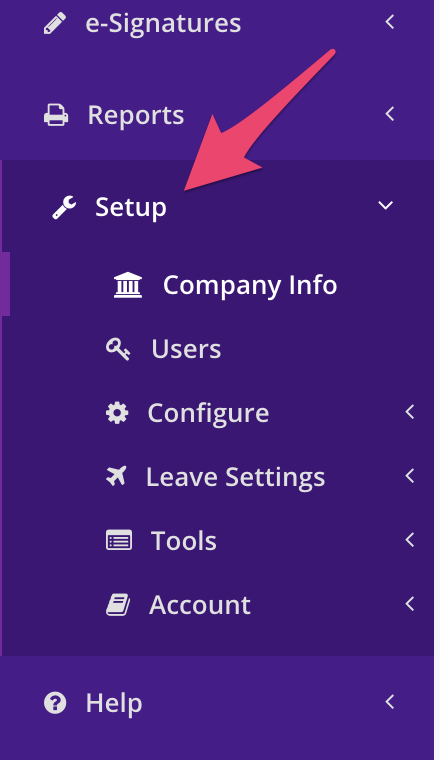 Company Info - This used to say 'Setup', and this is where you can set up all the core settings for your HR Partner company, including turning major modules on and off.
Users - No changes here - this works the same as it used to.
Configure - This is a new grouping for all the things like drop down menus, custom fields, checklist items, timesheet templates and other important things that affect how HR Partner works, but are considered outside the central parameters that are under 'Company Info'.
Leave Settings - All things related to leave/vacation/time off tracking are grouped in here, including things that affect your company calendars, such as holidays or special company events etc.
Tools - This is where more advanced tools are grouped, such as getting audit trails, viewing message logs or performing rare housekeeping tasks.
Account - No change to this section - this is where you can manage your subscription and payments and view your billing history.
We normally hate changing interface layouts, because it can cause confusion for our users who are used to having things a certain way - but in this case, we think this change is much better and will serve our existing, as well as our new users well.
But as always, if you have any questions, please do not hesitate to click on the blue chat bubble on the bottom right of your HR Partner screen to talk to us, or you can send us an email at support@hrpartner.io