Improving your job board
We've added some new options to help you configure your public job board in HR Partner.
All customers of HR Partner get a free public job board area where they can publish their open job listings.  Today we have added some more features to this job board which may make life easier for you.
If you go to Recruitment -> Configure -> Job Board, you may see some new options at the bottom of the page.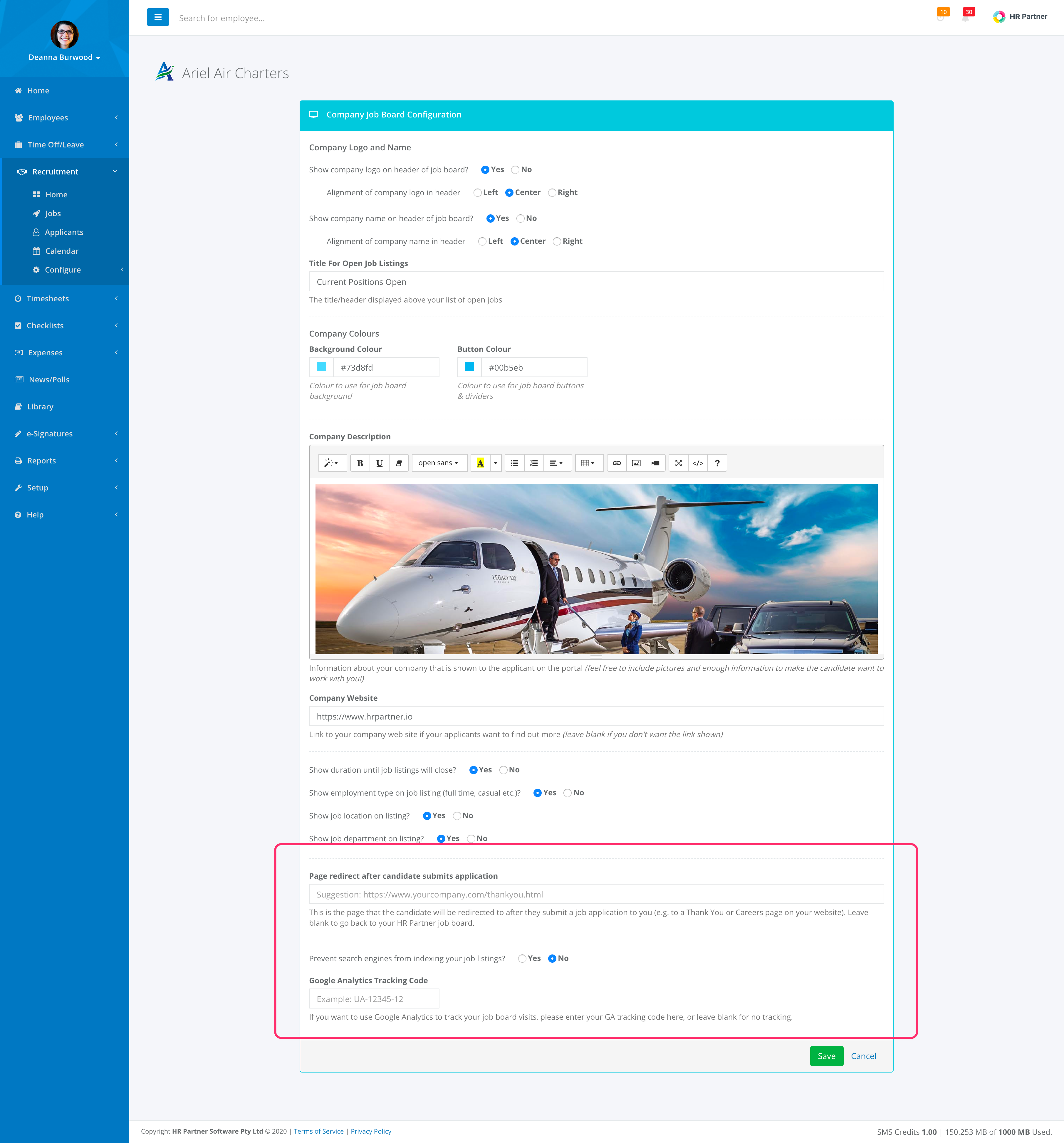 These new options are described below.
Page redirect after candidate submits application
Previously, when a candidate finished completing the application form on the job board site, they were taken back to the listing of all open box, and a thank you message was displayed at the top of the page.
However, many customers wanted the applicant to be taken to another page - either a thank you page on their main website, or else somewhere that the candidate could begin a second step of the application process.
Now you can nominate a URL that the candidate will be taken to when they finish their application form.  Leave it blank to be taken back to the open job listings on your HR Partner job board.
Prevent search engine indexing
In the past, search engine robots (such as the ones from Google), could crawl your job board pages, as they are public, and include your job listings in their search results.  Some clients love this, however others wish to keep the job listings more private and don't want them to appear on search indexes.
By default, this setting is set to 'No', however if you want to prevent indexing, then you can set it to 'Yes'.
Google Analytics tracking code
Up until now, you couldn't add your own Google Analytics tracking code to your job pages on HR Partner, but now, if you want to do more analysis over who is accessing your pages and where candidates are coming from, as well as assess the popularity of your job ads, you can add you own GA tracking code to your HR Partner job board.
You will need to have a Google Analytics account already set up, and you will need your tracking code that was created in your GA account.  Your tracking code will look something like 'UA-123456-99'.  Just copy and paste your code into the field here, and tracking information on page visits will be sent to your GA account.  Leave this field blank to omit tracking.
We hope these latest changes will add much more value to your HR Partner recruitment processes.